It's time to talk about our teachers. Today, we start with our Language Coordinator.
Maria Cristiano – Formazione Ditals – Università di Siena – Italy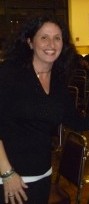 Before coming to the United States, Maria worked seven years at General Norwegian Consulate in Milan, Italy.  After that, Maria has been teaching Italian in several schools in the Boston area including Nempac in the North End, Berlitz in Boston and the Dante Alighieri Society in Cambridge, along with the British School.  At the Dante Alighieri Society, she has thought both kindergarten level as well as beginner to advanced adult level classes. Teaching Italian has been a wonderful fulfilling experience for Maria.
She teaches with a smile and she wants her students to have fun and enjoy their classes. She strongly believes that the learning process is facilitated and fostered by it.  Enjoyment promotes increased participation and faster learning results.  Moreover, creating a friendship within the class is essential to succeed.  She believes that the purpose of a language is to communicate with and enjoy other people and this is exactly what she tries to build in her classes.
She is extremely motivated, dedicated and enthusiastic Italian educator with extensive experience who wants all her students, from children to adults, to be successful learners. She has flexible aptitude to teaching techniques to ensure that every student's learning style and abilities are accounted for. The goal as educator is to inspire students to reach their highest potentials and learning efficiency.
Maria uses a communicative approach allowing students to extrapolate the grammar through the learning process.  She helps her students to feel comfortable in speaking Italian and to have fun while doing so.  She uses a wide variety of current and tangible material like films, songs and articles from newspapers and magazines.  Maria likes reading, baking and spending time with her children.  She used to volunteering at Children's Hospital in Boston and she is planning on doing so again soon.
Come and enjoy the class: "Insieme galopperemo verso orizzonti linguistici inimmaginabili!"